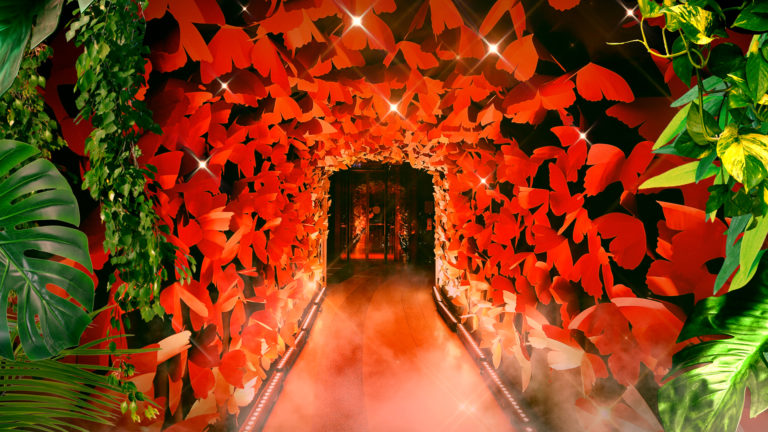 SAMBAZONIA EVENTS
a rainforest christmas
November 2019 – January 2020
Join us this Christmas season as we transform SUSHISAMBA into SAMBAZONIA, a magical rainforest full of spirit and surprise. Inspired by the Amazon, SAMBAZONIA is a truly immersive, uninhibited experience that's energized by music, color and bespoke design.
YOUR RAINFOREST CHRISTMAS EVENT
Treat your guests to an immersive Amazon rainforest-inspired experience. Highlights include…
Chef curated menus that are inspired by the versatility and rich flavors of the Amazon
Colorful performers, entertainment, music and more
A dedicated, knowledgeable event team to customize your bespoke event and help with every detail
Two Locations: Your Choice
Located atop the historic Market Building with views of the Piazza below, this space offers many dining and drinking options for events of all sizes. From the living ceiling bar to an intimate Japanese-inspired dining room, SUSHISAMBA Covent Garden is truly unique.
With breathtaking views of the City of London, this one-of-a-kind space – located on the 38th and 39th floors – offers an ideal setting for events both large and small.  Choices for your special event abound, including our dramatic main dining room, three distinct bars and a private dining room.
SAMBAZONIA NARA £75

SAMBAZONIA KYOTO £90

SAMBAZONIA OSAKA £110

SAMBAZONIA SAPPORO £220

SAMBAZONIA NAGOYA VEG £75
SAMBAZONIA
NARA FESTIVE GROUP SHARING MENU
£75 Per Person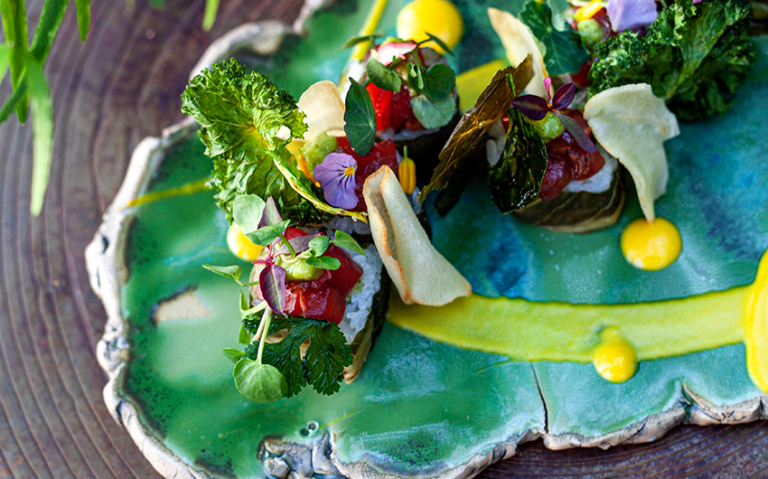 CRISPY WAGYU TAQUITOS
avocado and shichimi mayonnaise
BOLINHOS DE BACALHAU
cod, lime and shichimi togarashi mayonnaise, aji amarillo, purple peruvian potato
KANPACHI TIRADITO
yuzu, black truffle oil, sea salt
'CANNED' TUNA*
aji verde yuzu emulsion, yuca crisp, kikuna, crispy shallot, huacatay purée
ASSORTED NIGIRI
yellowtail, salmon, shrimp
ASHÁNINKA MAKI*
miso cured tuna, mustard leaf, asparagus, mango, avocado, yuca crisp, wasabi jalapeño
EZO
soy-marinated salmon, asparagus, onion, chives, sesame, tempura crunch, soy paper, wasabi mayonnaise
MOQUECA MISTA
shrimp, squid, sea bass, mussels, clams, coconut milk, dendê oil, chimichurri rice
CHOCOLATE BANANA CAKE
maple butter, plantain chip, vanilla rum ice cream v
SAMBAZONIA
KYOTO FESTIVE GROUP SHARING MENU
£90 Per Person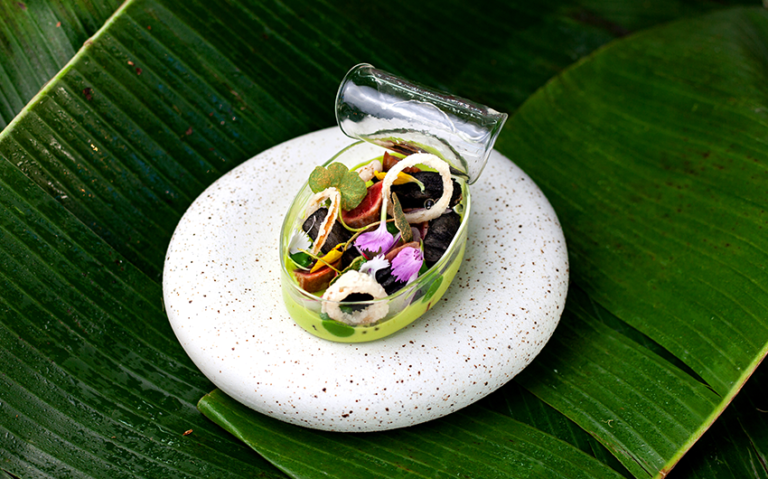 CRISPY WAGYU TAQUITOS
avocado and shichimi mayonnaise
BOLINHOS DE BACALHAU
cod, lime and shichimi togarashi mayonnaise, aji amarillo, purple peruvian potato
POUSSIN
teriyaki, japanese-style mayonnaise, yuzu kosho
ASSORTED NIGIRI
yellowtail, salmon, shrimp
ASHÁNINKA MAKI*
miso cured tuna, mustard leaf,asparagus, mango, avocado, yuca crisp, wasabi jalapeño
EZO
soy-marinated salmon, asparagus, onion, chives, sesame, tempura crunch, soy paper, wasabi mayonnaise
'CANNED' TUNA*
aji verde yuzu emulsion, yuca crisp, kikuna, crispy shallot, huacatay purée
CHURRASCO RIO GRANDE
ribeye, chorizo, wagyu picanha
CHOCOLATE BANANA CAKE
maple butter, plantain chip, vanilla rum ice cream v
SAMBAZONIA
OSAKA FESTIVE GROUP SHARING MENU
£110 Per Person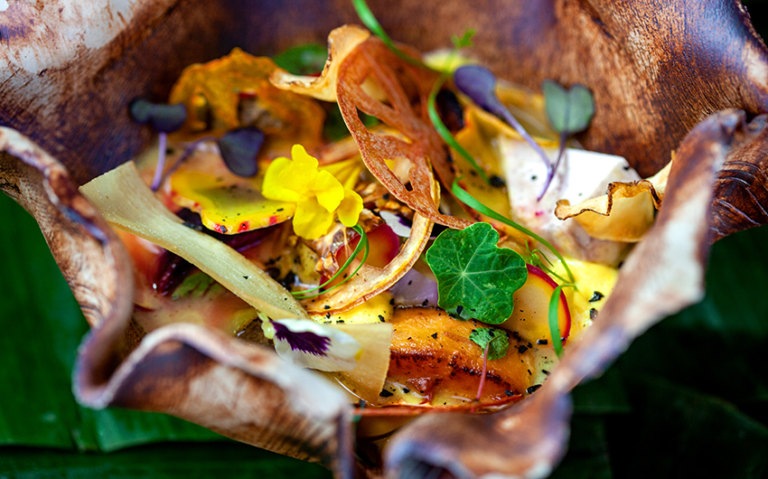 CRISPY WAGYU TAQUITOS
avocado and shichimi mayonnaise
WAGYU GYOZA
kabocha purée and sweet soy
THE FORAGE*
lulo leche de tigre caliente, ollucos, purple potato, jerusalem artichoke, huancaina, papa criolla
POUSSIN
teriyaki, japanese-style mayonnaise, yuzu kosho
BLACK COD
sweet corn, maiz morada, polenta, popcorn
KANPACHI TIRADITO
yuzu, black truffle oil, sea salt
'CANNED' TUNA*
aji verde yuzu emulsion, yuca crisp, kikuna, crispy shallot, huacatay purée
ASSORTED NIGIRI
yellowtail, salmon, shrimp
ASHÁNINKA MAKI*
miso cured tuna, mustard leaf, asparagus, mango, avocado, yuca crisp, wasabi jalapeño
EZO
soy-marinated salmon, asparagus, onion, chives, sesame, tempura crunch, soy paper, wasabi mayonnaise
EL TOPO®
salmon, jalapeño, shiso leaf, fresh melted mozzarella, crispy onion
MOQUECA MISTA
shrimp, squid, sea bass, mussels, clams, coconut milk, dendê oil, chimichurri rice
CHOCOLATE BANANA CAKE
maple butter, plantain chip, vanilla rum ice cream v
SAMBAZONIA
SAPPORO FESTIVE GROUP SHARING MENU
£220 Per Person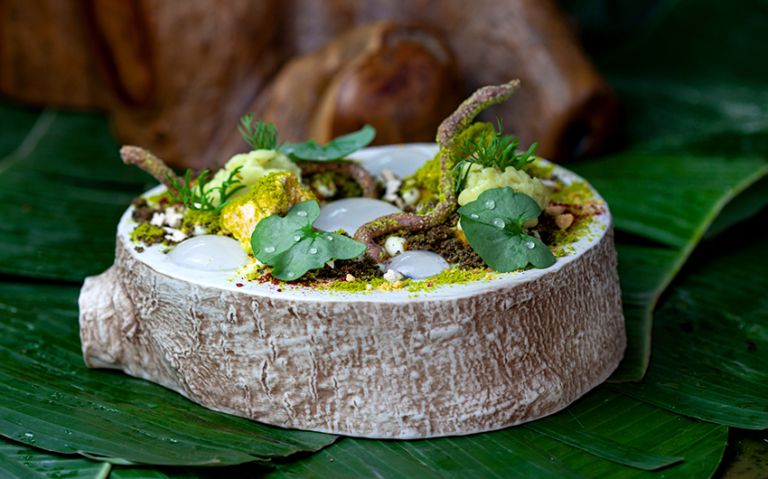 CRISPY WAGYU TAQUITOS
avocado and shichimi mayonnaise
'MISTURITA'*
pork belly, gyoza crisp, aji panca, radish, avocado purée, celeriac, nastortium
SHRIMP TEMPURA
snap pea julienne, spicy mayonnaise, black truffle vinaigrette
POUSSIN
teriyaki, japanese-style mayonnaise, yuzu kosho
BLACK COD
sweet corn, maiz morada, polenta, popcorn
KANPACHI TIRADITO
yuzu, black truffle oil, sea salt
'CANNED' TUNA*
aji verde yuzu emulsion, yuca crisp, kikuna, crispy shallot, huacatay purée
ASSORTED NIGIRI
yellowtail, salmon, shrimp
ASHÁNINKA MAKI*
miso cured tuna, mustard leaf, asparagus, mango, avocado, yuca crisp, wasabi jalapeño
EZO
soy-marinated salmon, asparagus, onion, chives, sesame, tempura crunch, soy paper, wasabi mayonnaise
EL TOPO®
salmon, jalapeño, shiso leaf, fresh melted mozzarella, crispy onion
MOQUECA MISTA
shrimp, squid, sea bass, mussels, clams, coconut milk, dendê oil, chimichurri rice
CHURRASCO RIO GRANDE
ribeye, chorizo, aged picanha
SAMBAZONIA*
asháninka chocolate, mango, yuzu, tropical matcha sorbet, raindrop 'cake', hazelnut crumble, pistachio
SAMBAZONIA 
NAGOYA VEGETARIAN FESTIVE GROUP SHARING MENU
£75 Per Person
VEGETABLE TAQUITOS
avocado, radish, red onion, peppers
SEASONAL VEGETABLE TEMPURA
sunomono vegetable, shichimi togarashi, yuzu
SAMBA SALAD
baby spinach, grilled kabocha, truffle ponzu, shavings of heritage carrots, radish, apple and mango dressing
MAE TERRA
tiny seasonal vegetables, tofu, truffle, beetroot, yuzu, sesame
VEGGIE MAKI
avocado, cucumber, assorted japanese pickles, spring onion, sesame seed
VEGGIE SASA
quinoa, coriander, avocado padrón peppers, asparagus
MUSHROOM TOBANYAKI
poached egg, japanese mushrooms, garlic chips
KUDAMONO EXOTIC FRUIT SALAD
cherry crisp, watermelon granité, green tea gel