Our bar and terraceS
Sunday – Monday  11:30am – 1am
Tuesday – Wednesday 11:30am – 2am
Thursday – Saturday 11:30am – 3am
Swing by anytime and unwind at one of our four bar areas…
A Gateway to the Sky with the highest dining terraces in Europe, SUSHISAMBA Heron Tower summons. Whether you cozy up by the fire pit at our iconic tree terrace, or enjoy a fun night out at our 39th floor bar featuring DJ's, handcrafted cocktails, bar bites and more, make a night of it…no reservations necessary!
Our bar and terraces operate on a first come, first served basis.  Should you be celebrating a special occasion we do offer a limited number of bar reservations which can be booked below… 
choose from:
Main Bar Amid the bustle of the main dining room, a classic SUSHISAMBA bar beckons.
39th Floor Lounge Overlooking the main dining room and the London skyline, sip and savor at our boldly designed bar and lounge area.
Tree Terrace Our iconic sculptural orange tree and circular bar extends into cooler months with outdoor fire pit, blankets and heat lamps.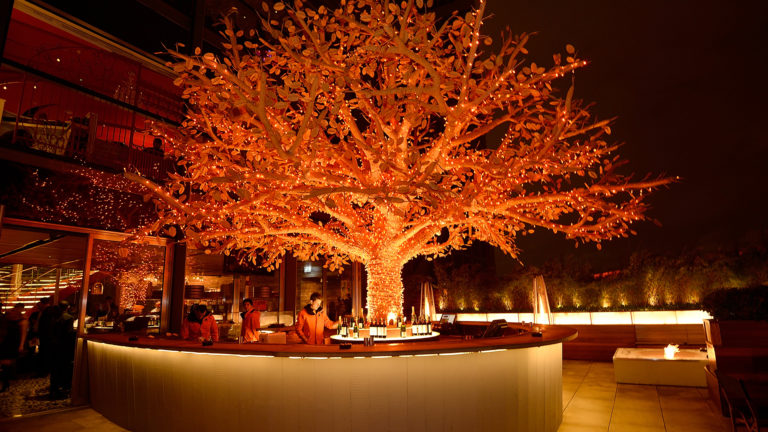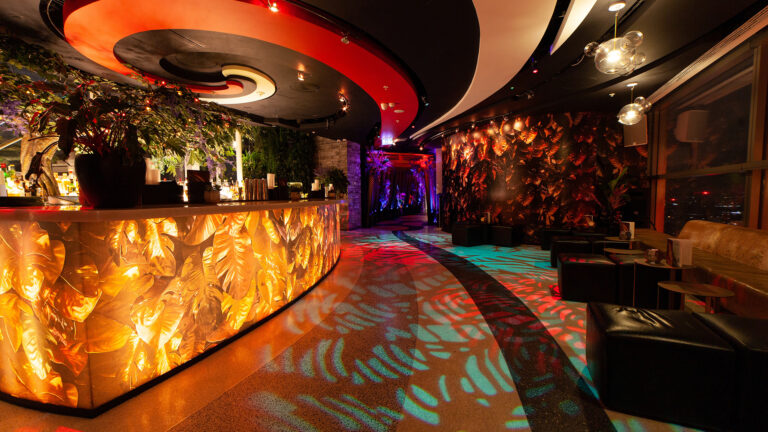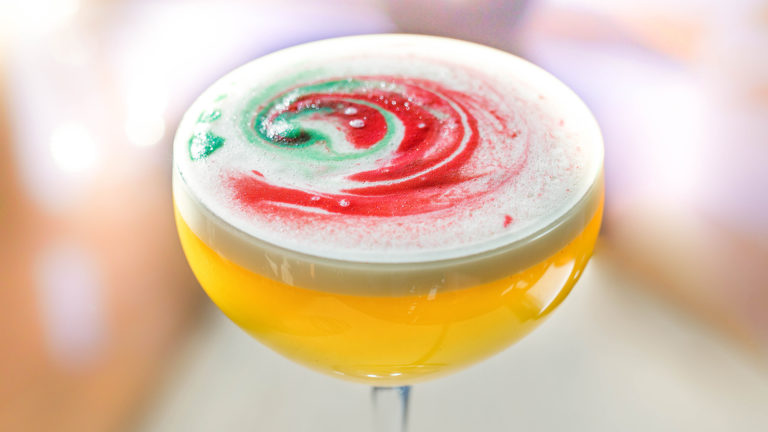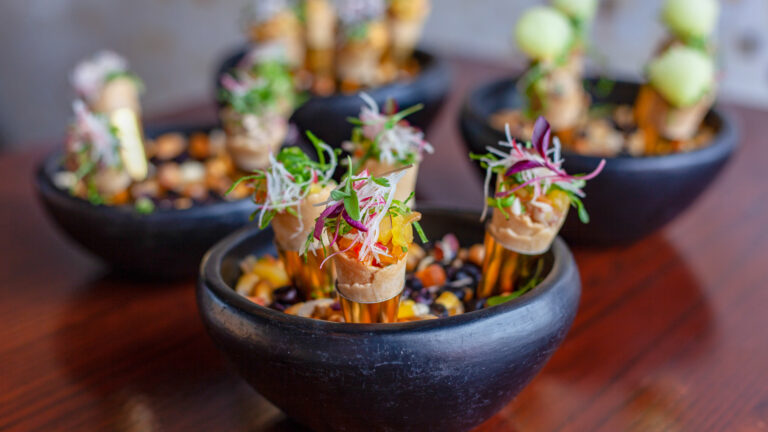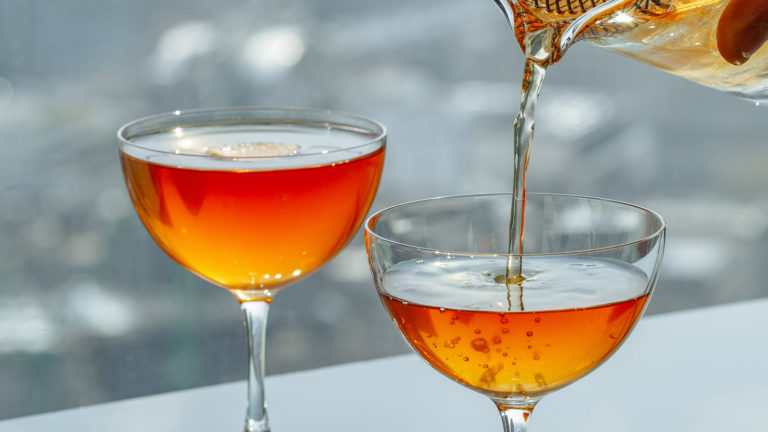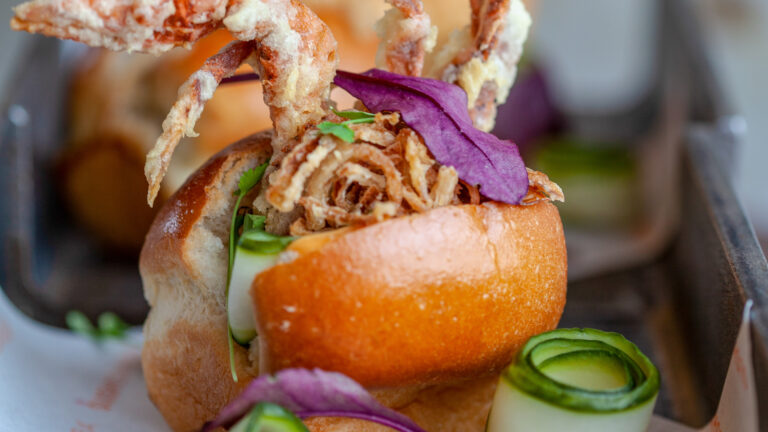 Celebrate 
Celebrating a special occasion? Whether a birthday party or fun night out with friends or colleagues, book a bar table between 6-30 guests and enjoy table-side cocktails, nibbles and spectacular views.
Our bar tables can be booked 2 weeks in advance and come with a £50pp food and beverage minimum spend.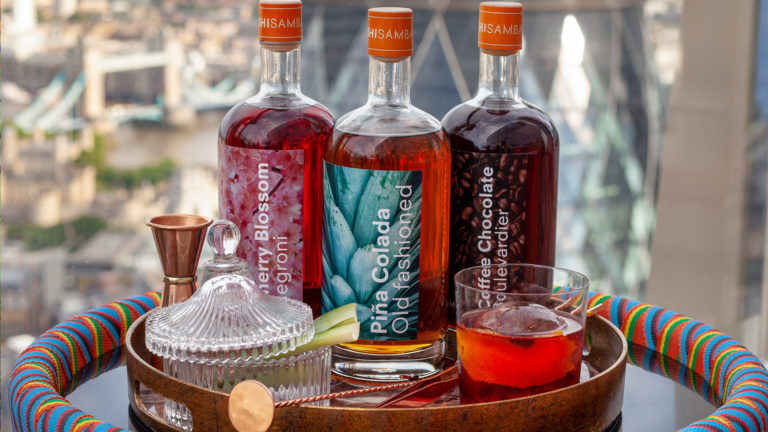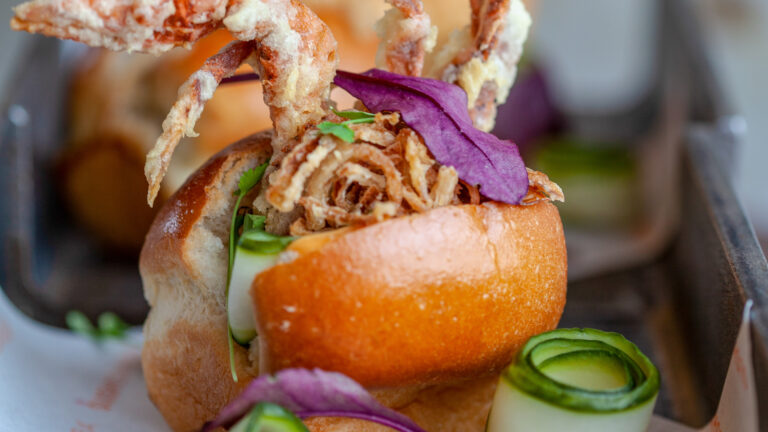 UME 36
NIGIRI AND GUNKAN 2 pieces of each
BABY CORN NIGIRI grilled baby corn, sweet soy mayo
COURGETTE NIGIRI rosted courgette, aji panca
ERINGI MUSHROOM NIGIRI eringi mushroom, yuzu kosho
CRIOLLA GUNKAN tomato, red onion, cucumber, shiso,micro coriander, aji amarilio
MAKI AND INARI 4 pieces of each
GREEN MAKI avocado, green beans, asparagus, wasabi peas, sesame seeds
VEGETARIAN MAKI avocado, cucumber, shibazuke, spring onion, kanpyo, sesame seeds, tenkatsu
VERDE MAKI cucumber, yamabogo, mix leaf,chives, wasabi mayo
INARI inari, truffle, chives, ginger, sesame seeds
TA-KE 58
NIGIRI 2 pieces of each
SALMON (ABURI) egg mayo, tobiko
SUZUKI cucumber, yuzu kosho
AMA EBI coriander, red chimichuri
MAKI  4 pieces of each
SAMBA LONDON tuna, salmon, hamachi, avocado, asparagus, onion, hishiho miso, crispy yuba, yuzu dressing
NEO TOKYO tuna, tempura flakes, aji panca, spicy mayo
EZO soy-marinated salmon, asparagus, onion, chives, sesame, tempura flakes, soy paper, wasabi mayo
CALIFORNIA snow crab, cornish brown crab, cucumber, avocado, sesame, japanese mayo, truffle oil
MATSU 88
NIGIRI AND GUNKAN 2 pieces of each
O-TORO NIGIRI caviar
SALMON NIGIRI wasabi tobiko mayo
YELLOWTAIL NIGIRI jalapeño, ponzu
SNOW CRAB NIGIRI yuzu pearls
LOBSTER GUNKAN nashi pear, aspragus, honey, truffle
WAGYU GUNKAN spring onion, sweet soy
NIGIRI AND GUNKAN 4 pieces of each
EL TOPO salmon, jalapeño, shiso leaf, crispy onion, spicy mayonnaise, fresh melted mozzarella
SALMON EBI MAKI salmon, shrimp tempura,avocado, Aji amarillo cheese
EEL MAKI eel, spring onion, avocado, cucumber
SOFT-SHELL CRAB BUN
soft-shell crab tempura, rocoto mayo, pickled cucumber 14
PASTEIS DE CARNE
chorizo, rib eye, huancaina, aji amarillo 11
NORI CRACKERS
wasabi mayo, aji panca ketchup, furikake, red vein sorrel 7
MAGURO SANDOITCHI
tuna, japanese egg mayo, spinach basil purée, red amaranth, jalapeño 8.5
CORN ON THE "HUSK"
cornbread, crackers, maiz morado, cancha, avocado purée 7.5
PINEAPPLE TIRADITO
shiso and spinach purée, mango caviar, white ponzu, ito togarashi 7
LUBINA SEVICHE
seabass, passion fruit leche de tigre, micro basil, sweet potato, crispy shallots, lime 12
CRISPY CONES
two per order
The flavours of our signature taquitos in a format perfect for enjoying at the bar or on the terrace.
YELLOWTAIL avocado and roasted corn miso 6.5
LOBSTER avocado, aji amarillo, jalapeño, lime, maize morado 8
VEGETABLE avocado, radish, red onion, peppers, pickled shimeji mushrooms 5
WAGYU avocado and shichimi mayo 8
SAMBA POPS
choose one
passion sour, sake shiso lime, caipirinha, mango lime, peach sudachi, raspberry strawberry 3.5
SHICHIMI-PEANUT CRUNCH BAR
white chocolate, miso caramel, peanut ganache, spicy corn 9
LOLLIES
chocolate banana, sakura berries , matcha yuzu, passion fruit 9

BOTTLE CONDITIONED
COCKTAILS
Introducing our seasonal selection of bottle conditioned cocktails. Each of the below has been created for your enjoyment – rested in bottles and poured straight over ice.
Available as a single drink £13 or bottle serve £120.
CHERRY BLOSSOM NEGRONI
Bombay Sapphire gin, Martini Riserva Speciale Rubino & Martini Riserva Speciale Bitter. Infused with cherry blossom.
PIÑA COLADA OLD FASHIONED
Bacardi Añejo Cuatro and Carta Negra rums. Infused with pineapple and burnt coconut with a touch of salted maple.
COFFEE & CHOCOLATE BOULEVARDIER
Monkey Shoulder Scotch whisky, Campari, Punt e Mes & chocolate bitters. Slow dripped through roasted Asháninka
Peruvian coffee.
Cocktails created over the years at our SUSHISAMBA locations, by our bar team – both past and present.
SAMBA SOUR
Fresh, Citrus, Velvety
A modern Pisco Sour, for the modern Pisco Sour drinker. BarSol Primera Quebranta pisco, Maraschino liqueur and turmeric, shaken hard with Japanese citrus and egg whites.
CHUCUMBER
Fresh, Light, Vegetal
Takara Yokaichi Imo shōchū, maraschino liqueur, plum sake and bitters. Shaken with fresh cucumber.
TOM YAM
Fresh, Fiery, Cooling
Hendrick's gin, coriander infusion, chili, lemongrass and lime leaf. Churned through crushed ice, with ginger syrup and citrus juice. Served long.
NINA FRESA®
Fruity, Bitter, Sweet
Russian Standard Platinum vodka, strawberry, grapefruit and guava, shaken with rhubarb bitters, lime and sugar.
NASHI MARTINI
Light, Fresh
Grey Goose La Poire vodka, St. Germain elderflower liqueur and plum sake. Stirred with lychee water, passion fruit syrup and Japanese citrus.
KAFFIRINHA
Fragrant, Herbaceous
Our creative take on the Brazilian Classic. Fragrant Kaffir lime leaves infused in Velho Barreiro cachaça, churned with lime and sugar and served short, over crushed ice.
LYCHEE COOLER
Creamy, Tropical, Fresh
Grey Goose Le Citron vodka, elderflower cordial and vanilla. Shaken hard with coconut cream and lychee water. Served long.
CAFÉ MILLONARIO
Rich, Velvety, Aromatic
Our take on the iconic espresso martini. Coffee washed Bacardi Carta Negra rum, spiced maple and dark chocolate liqueur. Shaken with the obligatory shot of espresso.
SHISO FINE
Herbaceous, Citrusy, Fresh
Russian Standard Platinum vodka, shiso leaf, apple and Thai basil syrup. Churned through crushed ice with apple and lime juices. Finished with a drizzle of crème
de cassis.
KOBE COCKTAIL*
Rich, Nutty, Velvety
Kobe fat washed Japanese whisky, salted caramel and maple. Stirred until icy cold and served over a perfect ice ball.
Inspired by flavors changing with the seasons. The below list of cocktails have been created in-house by our bar team and are exclusive to this location.
SAMBATINI® Our monthly inspiration created in-house by our bar team. Ask your server for details.
BANANA BATIDA
Long, Fresh, Tropical
Velho Barreiro cachaça, banana purée & lime. Churned through crushed ice with banana & coconut liqueurs.
TANGERINE SPRITZ
Light, Fresh, Floral
Hendrick's gin tangerine infusion, shiso sugar and yuzu juice. Served long and spritzed with soda.
COCONUT MATCHA SOUR
Creamy, Dry, Fresh
Toasted coconut washed Bombay Sapphire gin shaken hard with coconut cream, ginger, lime and egg white.
A-NISE TEQUILA SOUR
Fresh & Fiery
Thai basil pressed with Arette Blanco tequila & Ancho Reyes Verde chili liqueur, yuzu & pistachio-orgeat. Shaken hard with egg white. Served long and spritzed with soda.
BLACK CHERRY AMERICANO
Long, Bitter, Fruity
Black cherry washed Martini Rubino & Bitter, topped with soda. Served long.
TONKA ICED COFFEE
Sweet, Bitter
iced americano coffee, milk, mint, tonka beans and salted caramel
SAFFRON-SHISO "CAIPIRINHA"
Bold, Spicy, Refreshing
lime, saffron, shiso, ginger beer
LYCHEE-LEMONGRASS "COLLINS"
Light, Refreshing, Sweet
lychee juice, lime juice, lemongrass, chilli syrup, soda water
SUPER MANGO BATIDA
Tropical, Spicy
mango, lime, red paprika, kiwi, ginger
AMORA
Bold, Refreshing, Sweet
blackberries, blueberries, peach, apple & pineapple juice, red pepper syrup,
soda water